If getting fit was your New Year's resolution we're here to help you with it, provided you haven't given up on it already. We know how difficult it is to get in the rhythm especially with these changing government regulations relating to gyms. With this blog, we'll help you get into an effective routine that will allow you to work towards your fitness goals right at your home so that you don't have to rely on gyms or fancy equipment. All you need to do is implement and consistently follow these workout tips and ideas. So, put your shoes on and start sweating!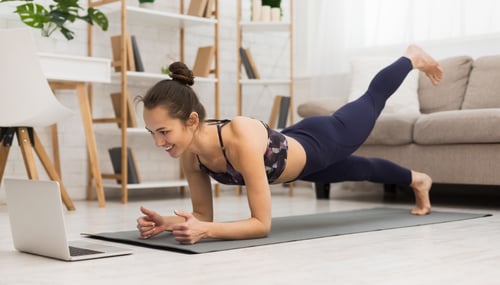 Set Your Fitness Goals
The first thing you need to do before you create a workout routine is realize your goals. You should set targets for yourself and a realistic timeline to achieve those targets. Also, make sure that you make a note of the beginning of your journey so that later on you can compare. This will motivate you at times that you'd feel like giving up by looking at how far you have come.
Create Your Ideal Workout Environment
Dedicate an area of your home for your workout. It can be your balcony, backyard, patio, or your bedroom. It just needs to be a place where you feel comfortable and relaxed and get enough room to do your routine. Working out under natural light and in an open space may prove to be more refreshing and fulfilling but if that doesn't work for you, pick the spot that speaks the best to you.
Gather your Equipment and Plan Ahead
Get all the essentials that you would need for your workout ahead of time, floor mat, water bottle, dumbbells, kettle weights, resistance band, skipping rope, etc. Schedule the time to workout at least a day before instead of just winging it, this helps in staying consistent. Gather all your equipment and a good workout energy before that scheduled time. Music is an essential part of a workout for a lot of individuals and if you are one of those, we'd suggest creating an energetic playlist for yourself.
Fitness Programs and Data Driven Workout
There are a lot of fitness programs and apps available that generate a daily routine according to your body type and fitness goals. You can also monitor your progress, duration of your workout, your steps, number of calories burned, and more with these programs. A lot of them are also available for free. Alternatively, you can also follow the workout routines from YouTube videos posted by popular fitness trainers worldwide.
Create A Diet Plan
Including healthier options in your diet can go a long way in your overall health. If you're not one to create and follow a rigid diet plan, at least try to substitute some of your meal choices with healthier alternatives or make some changes to your everyday routines. You can start easy with some simple choices like reducing your sugar intake, substituting sugar with honey, cutting back on carb intake, adding fresh fruit and vegetable smoothies to your day, etc. Nowadays, refrigerators offer quite innovative storage options especially designed to keep produce, fruits, and vegetables fresh for a longer period. Click here to learn about the Bosch refrigerator, designed to keep your food fresh for a long time, from one of our previous blogs.
Make Some Changes in Your Lifestyle
You can keep yourself healthier by making some very small yet effective changes to your everyday practices. For example, start taking stairs instead of elevators wherever possible. Similarly, if you sit at a desk for long hours, make sure you get up and stretch every once in a while. Try going for walks when the weather allows, or going for a run if you feel up for it. You will soon realize how much these small changes affect your health in a positive way in the long run. If you are one of us and you just can't seem to give up on fried food try switching to air fry. Air frying offers a healthier way to cook all your favourite fried food by using very little to no oil. You can find several cooking ranges on our website with a built-in air fry option.
Exercises
Now that you have created a good environment and mindset for your workout, here are some exercises that can be easily done at home and are quite effective if done regularly. You may have already seen some or most of these in your fitness program/YouTube routines.
Plank

Sit ups

Dancing/Zumba

Lunges

Squats

Skipping rope

Yoga and/or Pilates



We hope 2022 brings you all the health and happiness that you deserve and you see your New Year's resolutions through by implementing these simple habits in your daily routine.
--
Wanting more? Sign up for our e-newsletter and score the latest promotions, appliance trends, deals and exclusive access to sales BEFORE they happen - right in your inbox!