We saw a lot of brands come up with so many amazing products, innovative features, and designs in 2021. Appliances play a major role in our lives which is why it's important that we take our time in selecting the appliances and brands that best match with our needs, budget, and expectations. Whether it's a remodel of your kitchen or you're building a new one, it is important that you select the best appliances and brands. This may seem like an expensive investment at first, but you will realize that it's worthwhile to spend a little more on a brand that will offer you a superior quality product, better design, more features, and most important of all, high reliability. The last thing you want is to worry about your appliances breaking down or being obsolete in just a few years after spending a fortune on them. To help you choose from the best, we have compiled a list of the most promising kitchen appliance brands for 2022.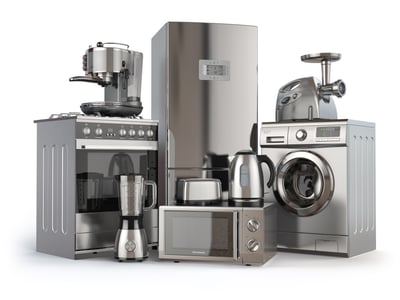 Bosch
Bosch has been a reliable and trusted brand for customers all over the world for about 125 years. Bosch offers a wide-range of products that serve almost all your kitchen needs, dishwasher, refrigerator, coffee machine, cooking range, and washer/dryer. All of its products offer high-quality, excellent performance, and reliability. Instead of focusing on positioning itself as only a premium or an affordable brand, Bosch carries products in both ranges so customers can either choose a model from its top-of-the-line products or a more reasonably priced range that meets the everyday needs. Bosch carries some of the quietest dishwashers in the industry and has been one of the leading dishwasher brands for a long time now.
LG
LG, one of the oldest and leading electronics brands in the world, is known for their fairly priced products that tend to last for a long time. Along with the other electronics and home appliances LG manufactures, LG excels in its kitchen appliances as well, especially with its latest innovations and designs. Furthermore, with the launch of its smart appliance line in 2014, LG appliances have truly revolutionized the kitchen space. LG has managed to stay among the top brands in the world with its technological and design innovations. For example, the stacked laundry concept has revolutionized the laundry industry. The LG WashTower provides convenience and accessibility, and helps save money and space over a separate washer and dryer set.
KitchenAid
KitchenAid has been established as a popular choice by homeowners all over the world for high functioning kitchen appliances at affordable prices. Initially, KitchenAid made a name for itself with its stylish and high performing stand-mixer and shortly gained a reputation for its other products as well. KitchenAid offers great quality, amazing features, style, and high functionality with all of its products, be it small countertop appliances like stand-mixers, blenders, coffee machines or major appliances like refrigerators, dishwashers, cooking ranges, and ovens.
Fisher and Paykel
Fisher and Paykel offers a wide range of elegant, innovative, and high-quality appliances for every kitchen need, refrigeration, ventilation, cooking, dishwashing, and laundry. For over 80 years, F&P has been challenging conventional design with their designs and products that are tailored to satisfy their customers needs. F&P is a premium brand that provides an elevated cooking experience to its customers with the perfect balance of professional and innovative features and an elegant design. F&P creates its products thinking of the future and hence creates sustainably designed and functioning products.
Café
Café is a popular choice by luxury home owners who are looking for beautifully crafted appliances that would match the aesthetics of their kitchen design as well as provide high functionality. Café allows customers to customize their appliances with different hardware options allowing them to create a kitchen design that is unique to them. Customers can choose between the finishes, brushed copper, brushed bronze, brushed black, or brushed stainless and create a personalized, aesthetically appealing appliance for their kitchen that also offers some of the most innovative features like Wi-Fi connectivity, touch screens, smart-home integration, etc.
Samsung
Another giant in the electronics and appliance industry, Samsung has been a trusted and reliable brand for generations. Like all of its other product offerings, Samsung's kitchen appliances are no less in terms of performance, design, convenience, and accessibility. Samsung never fails to provide technological excellence and high performance with its product innovations. A recent example being its new Bespoke Collection. The Bespoke collection offers a range of highly innovative refrigerators that can be tailor-made by each customer according to their own taste, preference, and needs. Customers can choose from a number of colour, finish, and design options to create a refrigerator like none other.
There are many other brands that have the potential to rule the market share in 2022 that we could not talk about but these are definitely the ones that you should consider for your appliance needs this year.
--
Wanting more? Sign up for our e-newsletter and score the latest promotions, appliance trends, deals and exclusive access to sales BEFORE they happen - right in your inbox!