We always love when new products arrive on the market and we're very excited about this one in particular. Bosch has just recently released the revolutionary new counter-depth refrigerator with the Fresh by Design Farm Fresh System.
This new refrigerator includes some incredible new technology and features that are built to keep your food as fresh for as long as possible. The system has four smaller systems built to manage different areas of the fridge to optimize freshness. It's incredibly flexible as well and includes a very sleek interior water dispenser. So, let's dive into these features a bit more and see what the excitement is all about!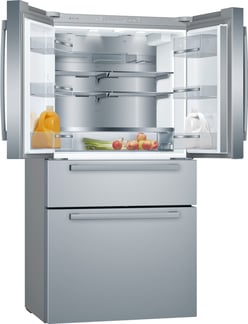 The Farm Fresh System consists of four different smaller systems:
VitaFreshPro balances the temperature and humidity of your fridge based on the food setting you select.


FreshProtect absorbs the naturally created ethylene to help slow ripening of produce.


AirFresh Filter keeps the air fresh, odourless and flowing within the entire fridge and it's built to last the lifetime of your refrigerator – so no need for replacements.


MultiAirFlow controls and keeps a consistent temperature throughout the fridge, from bins to doors and back corners.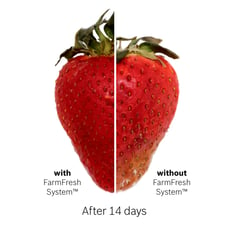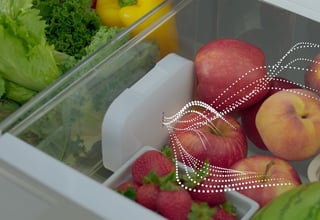 Outside of this multi-level freshness system, the refrigerator also includes an adaptable FlexBar (unfortunately it doesn't serve cocktails) BUT its designed so you can easily adjust the entire back of your fridge to fit exactly what you need, where you need it. It helps create extra space and includes multiple accessories such as shelves perfect for fitting wine bottles, condiments, eggs and much more.

Behind the FlexBar is a stainless steel back wall making an interior statement built with high quality materials that will last a lifetime. It also includes wide gallon door bins, LED lighting, split level shelves and a full width chiller drawer meant to fit serving platters.

Home connect also allows you to monitor and control your refrigerator from wherever you are. You can customize temperature and humidity and will be notified if the door is left open at any point. You can also run internal diagnostics remotely, so if anything ever happens, you can get technical help without having to be at home.

We just love this new fridge from Bosch, not only is it smart and works to keep your food as fresh as when you first bought it, but it looks good and will fit into any kitchen seamlessly.


--
Wanting more? Sign up for our e-newsletter and score the latest promotions, appliance trends, deals and exclusive access to sales BEFORE they happen - right in your inbox!