The holiday season is upon us and we could not be more excited about it. But as usual, the holidays bring several tasks for us to complete before we can comfortably entertain our guests and one of these tasks is getting your oven ready. Since ovens are one of the busiest appliances during the holiday season, it's best to properly clean and prepare it before it begins. We know it's the last thing that you would want to think about during this magical time but trust us, it's going to prove quite helpful later when you're preparing the holiday meals for your family and friends.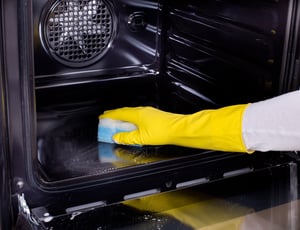 The first thing to note before you begin cleaning is that you should avoid the self-clean function on your oven if you're cleaning it too close to the holidays. The self-clean feature raises the temperature up to 1000 degrees which can cause failure of important electronic components which is something you don't want happening right before Christmas. If you're starting well before the holidays (at least two weeks before), you can use the self-clean function. Just be sure to only use to for an hour at the most.
Alternatively, if you're a procrastinator like us and you kept putting off the cleaning part until it was too late, baking soda and vinegar can come to your rescue. Put a bowl of white vinegar in the oven and preheat it to 275F. Once it's preheated, turn it off but keep the door shut for a few more hours. The vinegar steam will make it easier to clean the residue and also help get rid of any foul odours.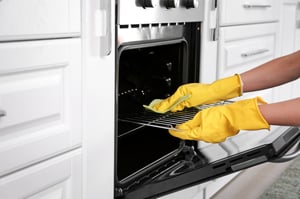 Next use a mixture of warm water and baking soda and a soft cloth or sponge to clean any areas that are still dirty. You can also use a small brush or a toothbrush. Use the same combination to scrub the racks after taking them out and then wipe them with a clean cloth.
After that, it's time to clean the oven window so you can clearly monitor the progress of your food inside. Use a cleaning spray and a clean cloth to wipe the glass after the vinegar/self-clean treatment to wipe down any residual stains.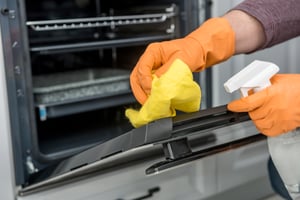 Finally take the knobs off and soak them in warm soapy water as directly using a spray on the attached knobs can cause damage to the range. After soaking, wipe them dry and put them back.
If you haven't been cleaning your oven regularly the whole year, these easy steps would help you make it up to your oven, just in time to entertain your guests and prepare your best holiday meals for them this Christmas.
--
Wanting more? Sign up for our e-newsletter and score the latest promotions, appliance trends, deals and exclusive access to sales BEFORE they happen - right in your inbox!