Part of being an adult is admiring, appreciating, and fantasizing about beautiful kitchens and home décor ideas. There is something oddly satisfying about looking at these modern kitchen design trends, the colour patterns that are preferred, the unique elements and fixtures, and the latest appliance innovations.
We think the designers that have the vision to create such desirable kitchens should be recognized and appreciated for their impeccable designs which is why we created our Kitchen Refresh Design Contest. The Summer Edition of the contest turned out to be a huge hit and we got to see so many fantastic designs by such talented designers. So, we decided to launch a follow-up, Fall Edition of the contest, requesting designers from all over the GTA to submit their favourite design projects for a chance to win a KitchenAid 11-piece Stainless Steel Cookware Set + $150 Grocery Gift Card!
Throughout the contest, we showcased these dreamy kitchen designs on our website and social platforms for the people who enjoy looking at them as well as for the people seeking inspiration and ideas to create their own dream kitchen.
The entries that we received from all these talented designers were all so brilliant. It would have been quite difficult to pick just one winner out of all these inspiring designs so we decided to leave it up to fate. Even though we cannot talk about all of them, here are some of the brilliant designs that absolutely caught everyone's attention. Let's take a look at these.
This design was submitted by Sarah Foster, from Common Good Studio.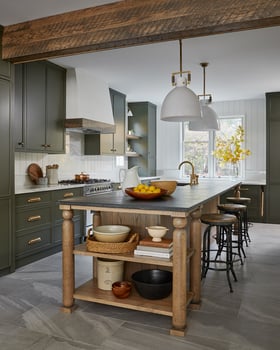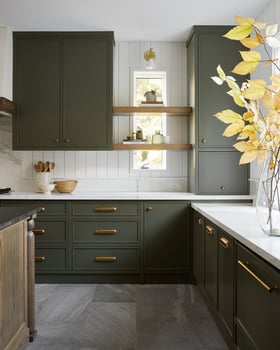 Apart from the beautiful design, something that particularly caught our eye is the unique olive-green cabinetry. Sarah complimented this unique colour so well with the antique wood, dark-coloured island, and tons of natural light.
This design was submitted by Andy Kwong, from Bax Canada Ltd.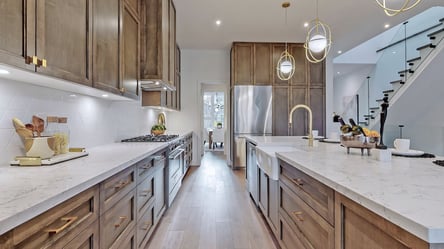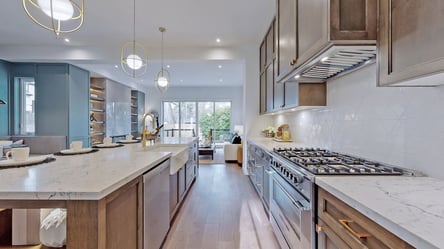 The open concept, mesmerizing gold fixtures, unique lights, the wood work, the pretty white marble, what's not to like about this aesthetically pleasing kitchen. We're sure anyone would love to cook in this kitchen even if they're not much of a chef. Hats off to Andy for creating this fabulous kitchen!
This design was submitted by Suzanne Vujic, from SV Design Inc.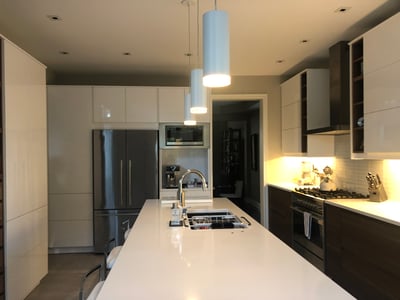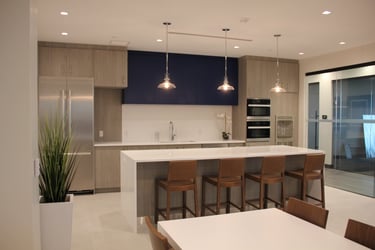 Suzanne, a wonderful designer that has been creating amazing designs for both commercial and residential projects, created these subtle and classy kitchens. We got to see the best of both worlds, residential and commercial, with her two entries. We absolutely love the sophisticated and sleek cabinetry in both the designs and the refreshing coffee station in the residential one.
This design was submitted by Katherine Joy, from Katherine Joy Interiors.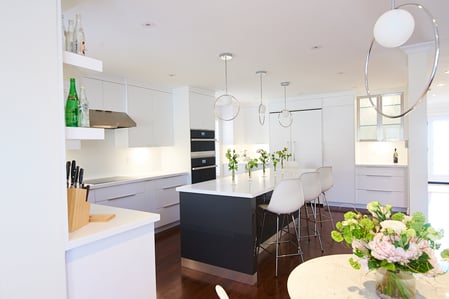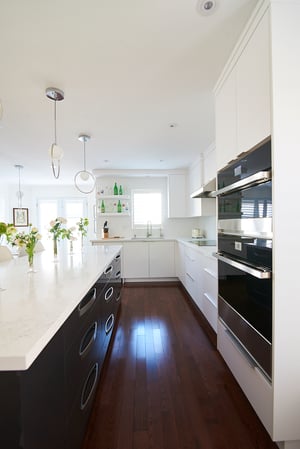 How pretty is this black and white combination! We love how Katherine went for integrated appliances, creating an elegant aesthetic. The hardwood floors and the lights add to the beauty of this flawless design.
This design was submitted by our lucky winner, Deanna Bock, from Deanna's Design.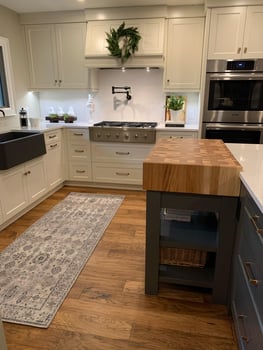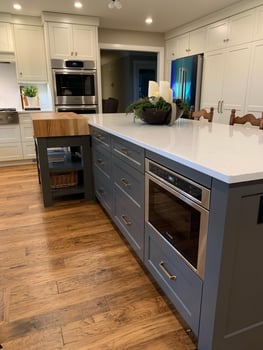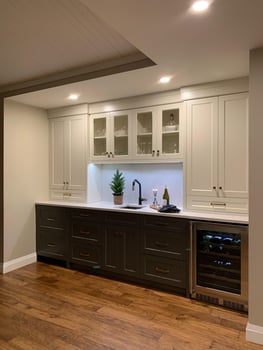 It's so great the designers are now inclining towards non-conventional colour schemes. Deanna made a bold and beautiful choice with a combination of white and blue colours and the result is absolutely astonishing, especially with the unique idea for the sink. The recreation centre with a wine fridge, sink, and space for other essentials are also stealing the show.
We hope you enjoyed looking and reading about these wonderful kitchen designs from the Fall Edition of our Kitchen Refresh Design Contest. Just know that if at any point you felt a little jealous looking at these kitchens, you were not alone. We got to see so many marvellous kitchen designs by such brilliant and talented designers, the ones that we mentioned here as well as the ones that we couldn't. Stay tuned for the coming editions to witness some more pieces of art in the future.
--
Wanting more? Sign up for our e-newsletter and score the latest promotions, appliance trends, deals and exclusive access to sales BEFORE they happen - right in your inbox!