Whirlpool, an innovative and inspiring brand established 110 years ago, has been one of the leading appliance brands for a long time. Whirlpool believes in advancing technology with simplicity and great designs that fit every lifestyle. Whirlpool takes pride in its intuitive and adaptive technology that regulates its functions to better help their customers, and offer higher performance and comfort.
Just like all their other products, their cooking ranges offer a sense of style along with innovative features and excellent performance. Let's talk about this masterpiece, The Whirlpool YWEE750H0HB 6.4 cu. ft. Smart Slide-in Electric Range with Scan-to-Cook Technology.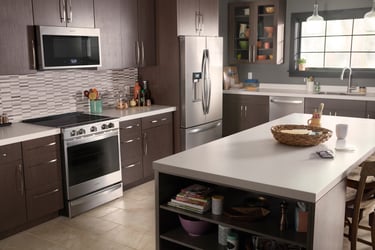 This beautiful and elegant electric range comes with four colour choices and slides right in to blend with your kitchen's elegant aesthetics and class it up even more. Its seamless touchscreen, air fry feature, and self-clean function add more to the convenience this range offers.
Here are some of the many amazing features this range has to offer:
Smart Features
The touchscreen can learn, adapt, and suggest customized or your most used settings for easier access. You can control the range remotely with your smartphone, voice command, or via Google Assistant/Alexa. You can command it to start or stop the oven, preheat, and more.
Scan-to-cook Technology
You can scan the barcode on your favourite frozen food and send the recommended or customized cooking instructions to the oven directly via your smartphone or tablet.
Fingerprint Resistant
It comes in fingerprint resistant, easy to clean black stainless-steel and stainless-steel finishes.
True Convection and Frozen Bake
It offers much faster cooking with true convection and allows you to skip preheating to cook frozen food. Thus, making it easier for you as well as on your energy bill.
Guided Cooking
Get daily cooking recipes and step-by-step cooking instructions with the Yummly app. The app even sends cooking instructions straight to your Whirlpool smart range, so your dinner will be cooked for you.
Cooking just became much easier and stylish with this brilliant Whirlpool Smart Electric Range. Learn about more of its amazing features here.
--
Wanting more? Sign up for our e-newsletter and score the latest promotions, appliance trends, deals and exclusive access to sales BEFORE they happen - right in your inbox!