KitchenAid has been one of the most loved and trusted brands in the world since 1919, offering a wide range of high-quality affordable kitchen appliances. A brand that has been providing us with high functioning dishwashers that have been known to compete with high-end brands for a lower cost. This 39 dBA Dishwasher with a Third Level Utensil Rack has been our particular favourite and has been catching the attention of a lot of eyes lately.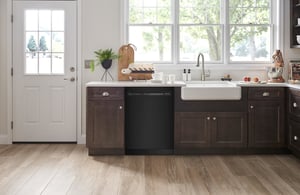 A dishwasher makes life much easier, especially one that offers high performance and takes less time for an efficient wash. This quietest dishwasher from KitchenAid, comes in four different colours and it's smooth, smudge-free stainless-steel look is bound to add to the elegance of your kitchen.
Here are some more of its features that make it such a big hit!
ProWash Cycle
It automatically adjusts the cycle times and water temperature according to the level of dirt on the dishes, using sensors. You don't have to worry about changing the settings every time you put in a pile of dishes for wash.
Adjustable Middle Rack
An extra rack to hold more silverware, utensils, spatulas, etc. and provide more flexibility to accommodate tall items.
Express Wash Cycle
So, you don't have to wait too long for freshly cleaned dishes.
PrintShield Finish
The only downside of owning a stainless-steel appliance is cleaning the smudges and fingerprints off it. It not only provides a smudge-resistant finish, the special coating also makes it easier to wipe and can be cleaned with just water and a soft cloth.
39 dBA
You wouldn't even notice if the dishwasher is running or not with its noise insulation technology.
Leak Detection System
Protect your dishwasher, floor, and cabinets with its high-quality leak detection system that provides three levels of protection against any kind of leaks or water overflow.
Energy Star Certified
Save water, energy, and money with this high star rated dishwasher.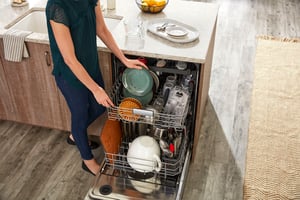 There are so many more amazing things about this dishwasher that make it not just one of our favourites, but also a dishwasher that is loved and chosen by families around the world. The KitchenAid 39 dBA Dishwasher with a Third Level Utensil Rack is not just about its elegant looks, its performance, efficiency, and features make it stand apart from all others.
Learn all about it here: https://bit.ly/3Du16fa
--
Wanting more? Sign up for our e-newsletter and score the latest promotions, appliance trends, deals and exclusive access to sales BEFORE they happen - right in your inbox!