Every once and a while there's a company that comes along and creates a product that has answered consumers biggest dreams and desires. Well, that time has come again as GE introduces the Ultra Fresh Laundry Set. Built to remove the 'front loader odour' we all struggle with, the GE Ultra Fresh laundry set finally eliminates the need to leave the washer door open until your next load.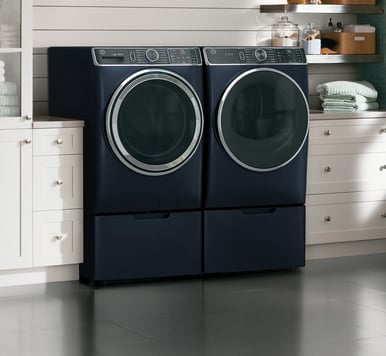 Antimicrobial Technology
Designed with antimicrobial technology Microban (global leader in antimicrobial additives and odour control solutions) the Ultra Fresh set protects specifically against the growth of bacteria. An innovative wider gasket was created to help drain any leftover water, which helps reduce bacterial growth.
The first and only UltraFresh Vent System with odour lock has been engineered to eliminate excess moisture. This specific feature leaves you with the confidence to close your washer door after each load, without having to ever worry about odour build up.

Teaming up with Microban has helped GE create the first washer gasket, dispenser and pump with Microban technology which has been specifically designed to not only eliminate but also prevent the growth of odour-causing bacteria in the machine.


Smart Dispense & Wireless Sync

Not only does the Ultra Fresh set fight against odour causing bacteria, it also includes helpful technology designed to make doing laundry feel like less of a chore. The Smart Dispense feature holds a 50oz bottle of detergent (about 32 loads) within the machine, automatically dispensing the correct amount based on load weight and materials. This feature is specifically designed to save time and detergent.
Wireless Sync allows you to link your washer and dryer via Wi-Fi connection. The Wireless Sync option works by having your washer sync information to your dryer to automatically adjust its settings based on the wash you just completed. This option saves you from having to adjust any settings on your dryer before flipping over the clothes and turning it on.

1 Step Wash + Dry
The UltraFresh set also includes a really great feature called 1 Step Wash + Dry, which is exactly how it sounds, amazingly. Select the feature on your washer when you load your laundry, make sure it's a small load, and the machine will use fresh air pulled in from the vent to dry your load within the washing machine, after it's been cleaned. Useful for small loads under 2 lbs – saving you even more time and energy.


As you can see, the GE UltraFresh laundry set is built of consumer dreams. No more front loader odour, easy to use and a time saver is pretty much checking every box. It's innovative, quality and really designed with the customer in mind. We are big fans of the machine and think you will be too! On your next visit be sure to check it out online or in store.


--
Wanting more? Sign up for our e-newsletter and score the latest promotions, appliance trends, deals and exclusive access to sales BEFORE they happen - right in your inbox!