Here we have two standout electric cooking ranges for 2022. Both of them have been a popular choice by homeowners in Canada. In this blog, we are going to talk about the features of both of these models, along with what makes them stand out among the other cooking ranges in the same price range. Let's start!
LG has been offering technological advancements and high-quality products worldwide for a long time now. The LG 7.3 Cu. Ft. Electric True Double Oven Range offers a large capacity and an elegant design.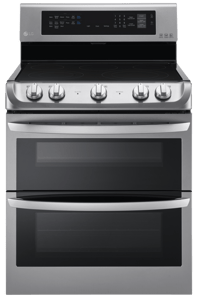 Apart from a sleek and modern look, it offers quick & easy convection without pre-heating, powerful and flexible burners, and what LG likes to call a "true double oven". The upper smaller oven is better for quick meals as it gets heated faster. Both the ovens can be operated separately and simultaneously, enabling you to cook different meals at different temperatures, at the same time. This is an amazing feature to have during those big holiday dinners.
Here are some more of its features that really stand out for us,
ProBake Convection
Its ProBake Convection feature offers an even and faster cooking experience.
EasyClean
It offers the fastest self-clean feature without using much heat or producing strong chemical fumes. There's also a conventional deep clean option.
Indoor Grilling
Its infrared technology takes less time to cook meat than usual ovens and provides a juicy flavour to your food and similar to an outdoor grill, so you can enjoy the taste of grilled steaks and chicken during winters as well.
Frigidaire has some of the most stylish and high-functioning kitchen appliances which offer a professional range of features and technology. So is the case with its new Gallery 30'' Front Control Electric Range with Air Fry.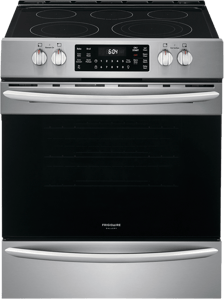 The range offers a sleek and elegant design that will enhance the look of your kitchen with its smudge-proof stainless steel finish.
Some more of its appealing features include,
True Convection
True Convection offers faster and even cooking with its powerful convection fan and heating elements.
Expandable Elements
The 5-burner elements allow flexibility to switch between different pan sizes and accommodation for bigger pots.
Fast Self-Clean
It offers a 30-minute oven clean feature that's free of odour and chemicals.
Quick Pre-heat
The quick preheat option allows you to start cooking/baking within a few minutes of being turned on.
Front Controls
The front controls offer convenience and better ergonomic sense.
Air Fry Tray
The air fry feature allows you to make all your favourite fried foods without the guilt. It uses minimum to no oil and delivers perfectly crispy and delicious treats within a matter of minutes.
We hope you enjoyed learning about the two brands and their newest cooking ranges! Stay tuned for more!
--
Wanting more? Sign up for our e-newsletter and score the latest promotions, appliance trends, deals and exclusive access to sales BEFORE they happen - right in your inbox!