The year 2020 saw a significant shift in the habits of families – less travel meant more time at home and a focus on how our homes could help us adapt to the significant changes going on around us. This shift also saw a huge increase in people buying and building new homes. Though many homes do come with appliances, there are times when they do not or you look to replace them. Complete kitchen renovations also usually require new appliances – depending on how things are designed.
We're here to help you prepare yourself for buying appliances for a new or renovated kitchen. There are important things to consider when doing so and we've outlined them below to make the process easier and ensure your decision-making process goes smoothly.


Consider Your Habits

When shopping for your new appliances you want to consider your habits and the habits of your family. Are you always packed into the kitchen with everyone entertaining large crowds? Do you prefer ordering in than cooking? Do you have six children to feed?

All of these daily habits will factor into which appliances you buy and ensure that they will work best for you. A family of two doesn't necessarily a large capacity fridge and a 16-place setting capacity dishwasher – unless they like to host a lot of parties. Also, a family may not need a substantial gas stove if they prefer ordering in.
These days, there are so many options to fit almost every need, once you determine how you live your daily life in the kitchen you'll find appliances to fit exactly what you're looking for.

Examine Your Space
Take time to consider the space your kitchen will occupy. Is it a smaller footprint or large with an island to sit around? You definitely want to consider what your space looks like and how it will function. Consider reducing space by having a wall oven installed or your cooktop placed on your island with a telescopic blower. Dishwasher drawers are another great space saver, same with built-in microwaves. Have a lot of space to fill? Consider a side-by-side fridge and freezer to maximize capacity.
Your space will tell you a lot about what you'll need and what you can include in your kitchen. If your heart is set on a large gas range, save space with a built-in microwave.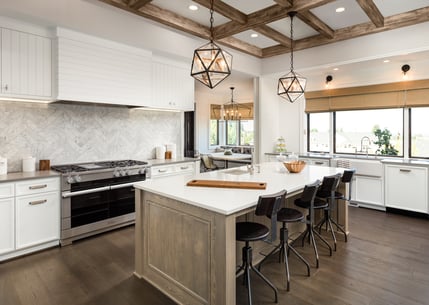 Measure, Measure & Measure Again

If you focus on only one thing on this list, let this be it. Measuring the areas where your appliances go and the appliances themselves is so important. Consider every measurement for every appliance, including your hood fan. Measure not only the appliances but also the spaces where the appliances will go. Measurements like; depth, width, height, height of counter, including the thickness of the countertop being installed. Talk to your Salesperson about any trim kits needed for your products as well and consider those into your measurements as well.

Don't forget to measure the height and width of your doors and staircase as well if that's a tight space. The best piece of advice we can give you is measure everything, again and again.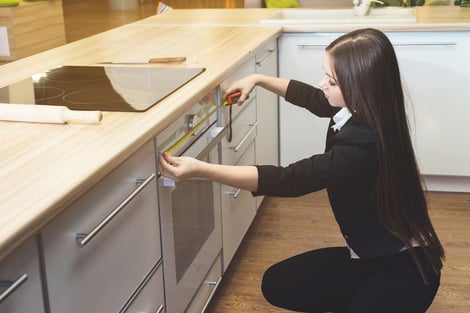 Talk About Timing

Ordering your appliances usually takes time, especially if you need special order items. If you have time, plan ahead as much as possible. Consider not only shipping timelines but also consider delays (especially now with covid-19 causing manufacturing shutdowns) and include that in your timeline expectations.

Talk to your salesperson about your timeline expectations and be realistic. Ask them for the longest possible time you'll have to wait and determine if you can wait that long. If not, consider reselecting or ask your salesperson to recommend something that they know will arrive sooner.
Plan Site Inspection
Having a site inspection done before your appliances are delivered is always a good idea. A site inspection involves an installer come to your house to ensure that all the details needed for installation are ready and make sense. Things like holes for ventilation, electrical outlets, waterlines are all things that are looked at. If there are any changes that need to be made they will inform you and allow you time to make these changes before delivery happens.

It's much better to have your site ready to go before your appliances arrive.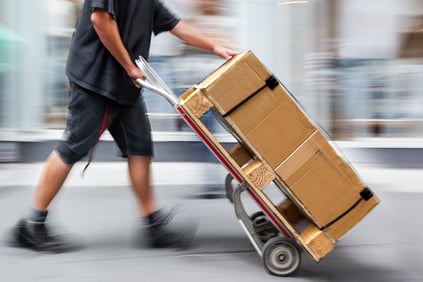 Delivery & Installation

Most customers who shop with us prefer having delivery and installation done as well, however this is completely up to the individual. We recommend talking to your salesperson about the appliances you'll need delivered and installed, ask about site inspection and how you need to prepare for their arrival.

Consider covering or protecting your floors and remove any doors or obstacles that may be in the way. Consider where exactly you want your appliances placed, if they are being installed this usually happens a few days after delivery. If you're installing them yourself do you want them in a different room?

Having the answers to these questions ahead of time will help save on energy and effort on your part and the part of the delivery team and will ensure things go as smooth as butter.
We hope this list helps you to feel a bit more prepared for buying appliances for your new home. The process can feel overwhelming, but it doesn't have to be. If you can go through the list above and prepare for these things it will ensure not only that you're happy with the appliances you buy, but that your home and your family are prepared for when they arrive.