So, do you need an air purifier? We just went through two years of where we all wished we had something to help us get through the fear of getting sick. An air purifier cannot promise we won't get sick, but it sure does help.
SHARP Placmacluster Ion Technology has been used in over 100 million products worldwide, including leading auto makers and refrigeration appliance manufacturers. It eliminates microscopic pollutants that most filters will not trap. Did you know that the air inside the home typically contains more pollutants than outside? Effective removal of dander, smoke, pet allergens and dust help make the air in your home cleaner. The Sharp True HEPA Filter removes 99.97% of airborne pollutants and helps continuously remove the SARS-CoV-2 carrier for the COVID-19 virus that has affected much of the last few years.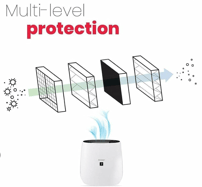 The Sharp Air Purifiers have sensors monitoring the air quality, the cleaning and humidifying (in some models) of the air. The colour display allows you to see the quality of your air quickly and lets you know that the system is running and protecting your family from airborne particles. Download the Sharp Air app for more features with some models, or use voice command with Google or Alexa.
Like with any new appliance, there will be additional expenses you should be aware of. True HEPA Filters and Activated Carbon Filters may last up to 2 years depending on the environment. The activated carbon deodorizing filter helps reduce some common household odours.
Air purifiers used in conjunction with proper ventilation in your home is going to be the best way to keep you home air clean and clear, and your family healthy. If you or your loved ones have allergies or asthma, if you have pets, if someone smokes in the house, or if you just want the peace of mind of knowing the air is clean and safe that you breath in your home – then a Sharp Air Purifier may be right for you.